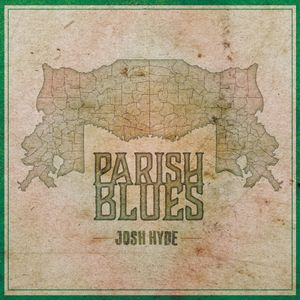 MAY 25, 2022 
by: DAN WILLGING 
Josh Hyde will never forget that night at a Baton Rouge blues jam. When it was his turn, the teenage guitarist played lightning-fast and out of control with every possible burning lick, he could muster. Afterward, Larry Garner said, "Son, you know you don't have to play all those notes. It doesn't take that many notes to play the blues." 
That's the approach Hyde took on his third album consisting of nine solid originals and no covers—keep it sparse and don't overload it with over-the-top, distracting solos. Since the Alexandria-based guitarist is accompanied by a keyboardist and a rhythm section, it's not totally bare metal either but leaner, rawer and more aligned with the impassioned blues he grew up with. With its North Mississippi Hill Country flavor, "I Can't Leave The Night" feels like something from Hyde's formidable years. It's built around a haunting riff that develops into a tasty solo before he drops his zinger last verse. 
Hyde took his time crafting the material in what he refers to as his first real blues album. Thematically, many songs revolve around love lost and the subsequent recovery struggle. Yet, they vary so stylistically that it never feels like more of the same. "Might Be a Tear" is fueled by Jimmy Wallace's pounding piano playing. "Stuck in a Rut," the first song Hyde wrote for this project, rides a mildly funky groove. Hyde's solos never venture into jammy histrionics but are creatively thoughtful and to the point. Several songs have multiple attention-grabbing stops and starts.  
The closer, "So Sweet," detours from the prevailing theme. This protagonist finds solace in being alone after an acrimonious breakup. 
But make no mistake about it, Hyde's vocals are the true centerpiece of these proceedings. They're mournfully soulful, world-weary, and break with the right edge to draw you into a vignette about someone who has lived the pain portrayed in the lyrics. 
With its crisp, clear sound, Hyde recorded this on an analog tape recorder and mixing board without Pro Tools to achieve a simpler, less modern sound. Though it was mixed by David Praet and mastered by Tom Volpicelli of The Mastering House using vintage equipment, it goes to show you don't need every bell and whistle to be effective.