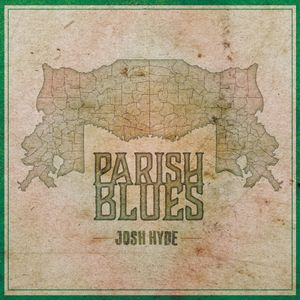 REVIEW 
By Cynthia Jordon   
Singer/songwriter Josh Hyde, a native of Baton Rouge, released his eighth album, "Parish Blues" this month.   
In its first week it took the   No. 1 spot on the Louisiana Roots Music Report. 
If I had to choose one word to describe Josh Hyde's sound it would be 'evocative." 
Fortunately, I am not limited to just one word to express the true depth of his music, which I have had the privilege of following for more than 20 years. 
I can't start this album review without first saying that if someone is truly interested in hearing, feeling and understanding the soul of Louisiana, Hyde's music is the place to start. 
Here is where I circle back to that word, "evocative." His sound is the very heart of this unique and alluring historic land. Yes, there are a lot of famous musicians from Louisiana who have left their stamp on the world. Each, in their own way, convey a sense of this place's musical wonderland. 
But Hyde, mixes all the Louisiana ingredients into a unique pot of musical gumbo that results in a. haunting, bone-deep flavor that seeps into every part of you. 
"Parish Blues," for Hyde, is a return to his deepest blues roots. And understanding those roots, he said, only comes from where the blues come from – life and living it.  
The album is only nine songs. Hyde said he is aware that many people today don't even listen to albums but stream one song at a time. 
"I didn't want them to get bored," he laughed. "So, I kept it tight and to the point." 
It's a smart move for capturing younger listeners, but for Hyde fans and blues fans, of course, it's not long enough.  That's OK, there are seven other albums to enjoy. 
Before getting deeper into the album itself, let's talk about the blues. If you aren't acquainted with the genre or if you aren't sure today's blues, and in particular Hyde's music, can really deliver a true blues sound, then I highly suggest you listen to some great blues. I would start with Muddy Waters, John Lee Hooke, r B.B. King and Bobby Blue Bland, to name a few of my. Favorites. 
Hyde said he has always wanted to call himself a blues man. In his early days he didn't because he felt maybe hadn't really paid his dues by living through some of the soul-wrenching experiences that birth the blues. 
The truth is, he was born with the blues in him and then nurtured it early with his own story and his "internship," one might call it, during his teens with blues musician Tabby Thomas and others. 
He has the life experience now and feels more comfortable with the label, but give a listen to his song "Mississippi Bridge," which he wrote at 11 years old, and it's obvious he understood the blues early on. 
Seven of the song on Parish Blues  are new work. Two, "Stuck in a Rut," and "Where to Start," are older works reproduced here with a more blues core than their original recordings 
But they fit perfectly. 
The first song on Parish Blues is "Since You Left."  It sets the tone for what's to come – an exploration of heartbreak. A songwriter's basic ingredient for any good blues music. 
"I Can't Leave the Night," Hyde said he wrote after a night in New Orleans. Anyone who has spent time there can connect and those who haven't will want to experience it after hearing this tune. This song also spawned a great music video well worth watching. 
The next song, "Might Be A Tear," is a favorite. The lyrics and melody along with some special arrangement choices make this a great song and a good introduction to the blues for those less familiar with this sound. 
The following tracks, "Holding On To Dreams," "Stuck in a Rut," "So Long," "All Alone Again," and "Where to Start"" all explore heartbreak in their own fashion but each offer a different side of the blues sound. 
This is made possible with Hyde's arrangements and production choices along with his own great guitar playing  and the expertise of Jamey Bell on drums,  Shawn Stroope on bass, keyboardist Jimmy Wallace, percussionist Derek Phillips and engineer David  Praet. Their sound is clean and the arrangements are subtle and appealing as each song offers its own melodic gift to listeners. 
This feature is notable because, although I am a big fan of the blues of those such as Waters and Hooker, their sound is sometimes too noisy. It's true that some of this can be attributed to early, less sophisticated recording equipment, but many tracks are also a victim of overproduction and crowded arrangements. Hyde, for this album especially and in most of his past albums, avoids this trap. 
To put a bow on Parish Blues, Hyde wraps it up with "So Sweet.". The song has, indeed, a sweet melody and what might be considered a more uplifting lyric. It seems to speak of someone digging out from under the grief. But it's a ruse, after all. 
Hyde calls it reverse psychology. But it is  simply one of the more poignant dimensions of the blues. One where the victim of heartbreak tries unconvincingly to make us believe he's over it.  
No self-respecting blues man, however, ever really gets over the blues as Hyde clearly understands.